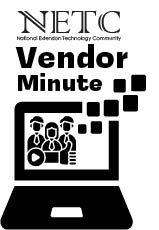 NETC strives to bring you the latest in technology, software, communications tools, and more with our Vendor Minute presentations.
We invite NETC members to our series of NETC Vendor Minute sessions. These gathering-style Zoom presentations will feature industry partners who offer services, software, or hardware opportunities for Extension IT departments nationwide.
Use our Gathering link to access our Vendor Minute sessions https://zoom.us/j/505768526
March 15 Vendor Minute
Noon CST, 1 pm EST
Enabling Collaboration and Connectivity with the Surface Family of Devices
An important element of any Land-Grant or Extension system technology is mobility – providing you the ability to do work wherever, whenever.  Join us as we take a look at each member of the Surface portfolio in which each device is intentionally differentiated, yet designed to work seamlessly together. Even better together, the Microsoft 365 + Surface combination provides an experience of the software you know and trust on the best of Microsoft hardware.
We'll explore how each Surface product (including the newest announcements—Pro 7+ and Laptop Go) is designed innately for the remote worker, providing:
The power to get it all done, wherever you are.
A natural design to enable the way you work best.
Real connections with teams to collaborate anywhere.
Remote connectivity with LTE options when Wi-fi is unreliable.
The control you need to stay secure with zero-touch deployment, one-click device management, and protection you'd expect from Microsoft.