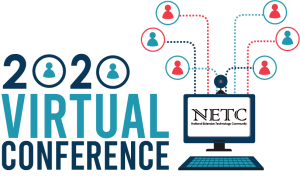 Thank you to everyone who joined us at this year's conference!
Thanks to our sponsors Office Depot for creating the conference content hub!
All NETC members are eligible to attend. Become a member today and join us in learning the latest in Extension technology.
Speakers 
Tuesday's Speaker:
Lois Brooks, CIO, University of Wisconsin, Madison
Lois Brooks joined UW–⁠Madison in August 2018 as vice provost for information technology and chief information officer. The vice provost for information technology and chief information officer (CIO) has direct and indirect responsibility for the entire sphere of information technology (IT) related activities on campus. In conjunction with advisory groups, this role oversees the development and delivery of IT services, IT security policies and best practices.
Prior to joining UW-Madison, Lois served as Oregon State University's vice provost for information services and chief information officer. She also served for twenty-five years at Stanford University, most recently as Director of Academic Computing. During her tenures at Stanford and Oregon State she co-founded the Sakai Foundation (now Apareo) and UNIZIN Consortium, serving on the Board of Directors for each. She also served as Executive Director of the Sakai Foundation.
She is active nationally in the higher education community, having served in leadership and governance roles with the Northwest Academic Computing Consortium, Educause and Internet2. She holds a BS in Applied Economics from the University of San Francisco, an MBA from the University of California Berkeley and an MBA from Columbia University.

Wednesday's Speaker:
Jennifer Sparrow, Associate Vice President for Teaching and Learning with Technology at Penn State
Jennifer leads a dynamic team of more than 95 learning innovators at Penn State.  Teaching and Learning with Technology collaborates across the entire institution to transform teaching and learning in positive and enduring ways.  The work is grounded in the values of accessibility for all learners, reliability, and credibility of all work, and strong partnerships with faculty, students, staff, and vendors that enable new ventures in teaching and learning.
She champions for the following strategic goals: innovation in teaching and learning with technology, strategic opportunities for faculty development, the advancement of flexible, active learning spaces, research in the scholarship of technology-enhanced teaching and learning, and inspiring excellence in teaching and learning with technology at Penn State and beyond.
Jennifer's current service includes roles on the EDUCAUSE Board of Directors, Unizin Board of Directors, IMS Global Higher Education Board, and the Women's Leadership Group for the United Way of Centre County. Sparrow teaches for the Bellisario College of Communications and she has been integral in the development of the Center for Immersive Experiences, the digital fluency project at the PSU Greater Allegheny campus, and the Center for Arts and Design Pedagogy.  During her tenure at Penn State, she has successfully developed four unique learning spaces: the Dreamery, a co-learning lab; the Maker Commons; the BlueBox Classroom, an experimental teaching space; and the Immersive Experiences Lab, supporting the creation and consumption of virtual reality, augmented reality, and 360 videos.
Jennifer received her bachelor's degree from Smith College, her master's degree from Florida Gulf Coast University, and a doctorate from the University of Central Florida. Jennifer is the winner of the 2013 EDUCAUSE Rising Star Award.