What are NETC Gatherings?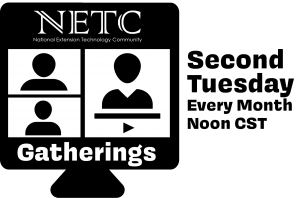 Every month the NETC group meets via Zoom to discuss timely and important topics ranging from professional development to personal growth. Each discussion is organized and led by individuals who volunteer their time and expertise to the community. Our Gatherings committee coordinates each Gathering and the NETC team is excited to share these online events with both NETC members and affiliates alike.
2020 Gatherings Schedule
You can join the Gatherings here
November 10
Teaching Remote Pilots with University of Florida Extension Agent, Jennifer Bearden
Training materials were developed and refined to train UF faculty and staff as well as private individuals in order to prepare participants for the FAA Remote Pilot Exam.  The agent held three workshops and improved the training materials each time.  A total of 84 individuals received training.  The materials cover the FAA Remote Pilot Exam and some helpful remote pilot resources in order for participants to become competent pilots.
December 8
Discussion of Alternative Operations Models, as Dictated by COVID-19 with Auburn University Extension IT Manager Greg Parmer
We'll share the timeline and Extension's implementation of the Auburn University Alternative Operations Model, including ways we were well prepared, and some where we were not. Bring your success and war stories for an interactive exchange of information and ideas.
2021 Gatherings Schedule
January 12 – Emotional Intelligence presentation by Iowa State University Extension specialist, Alison Boelman
February 9 – Who's Your Audience? Writing Effective Digital Media Content for Extension Clientele, presentation by University of Arkansas System, Division of Agriculture specialist Amy Cole
Previous 2020 Gatherings:
January 14 – Management and Leadership Resolutions for 2020
February 11 – Bookclub! Brene Brown's Daring Greatly, discussion led by Amy Cole and Nic Richardson
March 10 – Web accessibility presentation and roundtable with Iowa State's accessibility team.
April 1 – SPECIAL EDITION! Working remotely and staying sane during the pandemic. Roundtable discussion led by Greg Johll
April 14 – Bookclub! Simon Sinek's The Infinite Game, discussion led by Nic Richardson and Ed Zuech
May 12 – Web accessibility, Take TWO! Due to popular demand, we are re-presenting the session from March 10 with Iowa State's accessibility team along with new takeaways and tips.
June 9 – Virtual Conference Preview!
July 14 – Zoom Security with University of Wisconsin Educational Specialist, Tony Roman.
August 11 – Rescheduled to 2021 – Emotional Intelligence presentation by Iowa State University Extension specialist, Alison Boelman
September 8 – Connecting with Urban, Hobby and Community Garden Farmers through Facebook Live with Lisa Hickey, Sustainable Food Systems Extension Agent with the University of Florida
October 13 – Take Your Zoom from Required to Desired
Powered by 

Previously Recorded Gatherings are available for NETC Members.