What are Gatherings?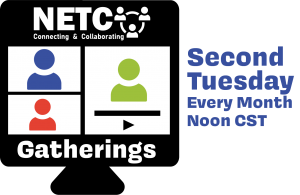 On the second Tuesday of each month, the NETC community meets to discuss topics ranging from professional development to personal growth. Discussions are usually led by NETC members volunteering their time and expertise to the community. We are excited to share these online events with both NETC members and affiliates.
NOON Central every second Tuesday.
Upcoming Schedule
December 14, 2021 – The impacts of remote work on Extension Professionals
Presenter: Jerry Thomas and Julie Aldridge, The Ohio State University
Description: In the Spring of 2020 Extension went virtual. This study explores what worked and what didn't. This includes not only technology but also support services, etc.
Previous Gatherings
2021
November 9, 2021 – Grab-n-Go: Making Technology work with a Brown Paper Bag
Presenters: MSState, Mariah Morgan, Bekah Sparks, Joy Anderson, Lara Angel, Kelsey Helm Martin

Description: The COVID-19 pandemic underscored how technology can connect us to our clientele, but it also showed us that clientele still need practical, hands-on experiences that connect them to the local Extension Office.
Facing growing frustration with virtual school, Zoom fatigue, and lack of social interaction, Extension Agents and Specialists worked together to provide Grab-n-Go kits for clientele. This gave clientele something to look forward to that was also COVID safe. The Extension Agent would then utilize technology (Facebook Live, YouTube, Zoom, GIS) to teach the client how to complete the project. This session will look at the method, tools, and technology resources used to complete this project.
October 12, 2021 – From Chaos to Organized with Monday.com
Presenter: Karen Watts DiCicco, Digital & IT Innovation Manager, University of Arkansas System' Division of Agriculture
Description: In the old days, we tracked IT requests and projects using Excel, Word, Box or (Gasp!) email. Project management was difficult because tasks were hard to track and would get lost in the shuffle. Using Monday.com, The UA System Division of Ag IT department was able to take everything that was spread across applications and have it in one handy place.
Request forms, tasks, projects, and reports are all easily available in one location where we track milestones, deliverables, action items, resource allocation and more. Join us for an overview of Monday.com and how it helped us turn chaos into a well-organized project management system!
September 14, 2021 – Reporting Technologies Within Extension
Description: Have you struggled with Extension's reporting requirements (local, state, federal, tribal, etc.), especially in terms of program impacts and collecting participant information (demographics)? Find out what works and what doesn't and see some Universities that are doing this well!
August 10, 2021 – Meet the Board!
Want to get to know our board members better? Now is your chance! Each member's interests and talents will be highlighted, and well cover the history of NETC and what exactly we stand for. Come with your questions and be ready to socialize.
July 13, 2021 – Online Courses: Tips, Tricks, & Discussion
John Hartley, IT specialist with Auburn University, will discuss course development and management, LMS systems, tech support, and more! Learn about the software and best practices for establishing, marketing, and maintaining a thriving online course catalog.
June 8, 2021 – Conference Preview!
Get a sneak peek at the upcoming NETC Virtual Conference and learn about the platform we are using to host the event! Find out about our keynote speakers and learn about the presentations coming up on June 14-16th!
May 11, 2021 – Wi-Fi Enhancements on Native American Tribes During the COVID Outbreak
Presentation by University of Arizona Extension Director of Cyber & Information Technologies, Matt Rahr
April 13, 2021 – Zooming Through the Year…Securely!
Navigate Program Delivery and Collaboration events as safely and securely as possible, presentation by Auburn Extension Service IT Specialist, Rusty Presley. View presentation documentation.
March 9, 2021 – Zooming Through the Year
Exploring the Use of Technology for Extension during the COVID Crisis. A presentation by Cornell Cooperative Extension Distance Learning Advisor, Paul Treadwell
February 9, 2021 – Who's Your Audience?
Writing Effective Digital Media Content for Extension Clientele. A presentation by University of Arkansas System, Division of Agriculture Digital Media Manager Amy Cole
January 12, 2021 – Emotional Intelligence
Presentation by Iowa State University Extension specialist, Alison Boelman
2020
December 8, 2020 – Discussion of Alternative Operations Models, as Dictated by COVID-19
With Auburn University Extension IT Manager Greg Parmer
November 10, 2020 – Teaching Remote Pilots
With University of Florida Extension Agent, Jennifer Bearden
October 13, 2020 – Take Your Zoom from Required to Desired
September 8, 2020 – Connecting with Urban, Hobby and Community Garden Farmers through Facebook Live.
With Lisa Hickey, Sustainable Food Systems Extension Agent with the University of Florida
July 14, 2020 – Zoom Security
Presentation by University of Wisconsin Educational Specialist, Tony Roman.
---
Powered by

Previously recorded Gatherings are available for NETC Members.