What are NETC Gatherings?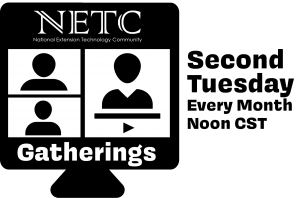 Every month the NETC group meets via Zoom to discuss timely and important topics ranging from professional development to personal growth. Each discussion is organized and led by individuals who volunteer their time and expertise to the community. Our Gatherings committee coordinates each Gathering and the NETC team is excited to share these online events with both NETC members and affiliates alike.
2020 Gatherings Schedule
You can join the Gatherings here
September 8
Connecting with Urban, Hobby and Community Garden Farmers through Facebook Live with Lisa Hickey, Sustainable Food Systems Extension Agent with the University of Florida
Small-scale farmers frequently request horticulture information about specific crops and visit our Extension websites in search of information to assist them with overcoming specific weather, pest, or planting issues. During the COVID-19 pandemic, University of Florida specialists had to get creative in order to translate their educational outreach from in-person to remote. Sustainable Food Systems Extension Agents teamed up and created a plan to utilize Facebook Live videos to reach out to a wide range of urban and rural small-farm producers. The results were outstanding and after two months the video downloads went from near zero to over 3,000 views! An added benefit to using Facebook Live videos was that community gardeners and home gardeners were able to access the same information as larger scale producers.  Many growers and gardeners have emailed their appreciation for the information and many more have  called for additional assistance as a follow up to watching the sessions.
Join the September gathering to learn what made the University of Florida team successful using Facebook live and how you can translate that same strategy into your Extension programming.
October 13
Take Your Zoom from Required to Desired with Instructional Strategies with Megan Wecker and Christine Rybak from the University of Wisconsin Extension
Have you ever participated in a Zoom Meeting that left you debating the best angle to inconspicuously check your phone- we know we have?! You can avoid this Zoom drag by applying even one or two simple researched-based instructional strategies to your presentations, demos, or teaching events. This presentation will impart some of the research behind the "why," show you how to do it, and then give you a chance to practice incorporating active learning strategies into your own work.
November 10
Teaching Remote Pilots with University of Florida Extension Agent, Jennifer Bearden
December 8
Discussion of Alternative Operations Models, as Dictated by COVID-19 with Auburn University Extension IT Manager Greg Parmer
Previous 2020 Gatherings:
January 14 – Management and Leadership Resolutions for 2020
February 11 – Bookclub! Brene Brown's Daring Greatly, discussion led by Amy Cole and Nic Richardson
March 10 – Web accessibility presentation and roundtable with Iowa State's accessibility team.
April 1 – SPECIAL EDITION! Working remotely and staying sane during the pandemic. Roundtable discussion led by Greg Johll
April 14 – Bookclub! Simon Sinek's The Infinite Game, discussion led by Nic Richardson and Ed Zuech
May 12 – Web accessibility, Take TWO! Due to popular demand, we are re-presenting the session from March 10 with Iowa State's accessibility team along with new takeaways and tips.
June 9 – Virtual Conference Preview!
July 14 – Zoom Security with University of Wisconsin Educational Specialist, Tony Roman.
August 11 – CANCELED – Emotional Intelligence presentation by Iowa State University Extension specialist, Alison Boelman
Powered by 

Previously Recorded Gatherings are available for NETC Members.